ShareKaro
Download for Android
ShareKaro is a free Indian file-sharing app that allows users to transfer files between different devices and systems without the need for an internet connection. Download it now for your device and start sharing!
Latest Version: 2.5.49.1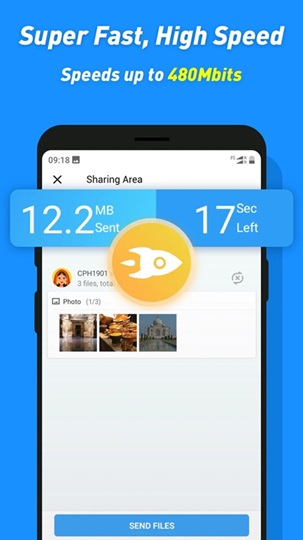 Table Of Contents
Pick which you want to save your time
Screenshots
Latest Screenshots
The more image you see about ShareKaro, the more you will understand and know it
First Slide
First Slide
First Slide
First Slide
First Slide
First Slide
First Slide
Description
ShareKaro for Android Description
In today's digital age, the ability to seamlessly share files between devices has become an indispensable tool for communication and productivity. ShareKaro, a popular Android file-sharing app, has emerged as a frontrunner in this domain, offering a convenient and efficient solution for transferring a wide range of files without the need for an internet connection.
What is ShareKaro?
ShareKaro is a free-to-use file-sharing app designed exclusively for Android devices. It utilizes WiFi Direct technology to establish a direct connection between sender and receiver, enabling the transfer of files at blazing-fast speeds, significantly outpacing traditional Bluetooth or even Wi-Fi methods.
Features of ShareKaro Android
ShareKaro boasts an array of features that make it a compelling choice for users seeking a hassle-free file-sharing experience:
Cross-platform compatibility: Share files with ease between Android, iOS, and PC devices.
No internet required: Transfer files without consuming any data, making it ideal for offline scenarios.
Unparalleled speed: Enjoy lightning-fast transfer speeds, up to 200 times faster than Bluetooth.
Large file support: Share files of any size, including videos, photos, music, and apps, without limitations.
Multi-file transfer: Send multiple files simultaneously, saving time and effort.
QR code sharing: Connect devices effortlessly using QR codes for a seamless sharing experience.
File manager: Manage your files effortlessly, organize them into folders, and access them easily.
Multimedia player: Enjoy your favorite music and videos directly within the app.
System Requirements of ShareKaro Android
To ensure optimal performance, ShareKaro requires the following system requirements:
Operating system: Android 4.4 (KitKat) or higher
RAM: Minimum of 1GB RAM recommended
Storage: Sufficient storage space available for file transfers
Pros
Impressive speed: Share files at lightning-fast speeds, significantly faster than traditional methods.
Offline functionality: Transfer files without an internet connection, making it versatile and convenient.
Cross-platform compatibility: Share files seamlessly between Android, iOS, and PC devices.
Extensive file support: Transfer files of any size and format, including videos, photos, music, and apps.
User-friendly interface: Simple and intuitive interface for an effortless sharing experience.
Cons
Occasional ads: The app displays occasional ads, which can be disruptive.
Potential for inappropriate content: Some users have reported encountering inappropriate content within the app.
Limited file encryption: The app lacks robust file encryption, which may raise privacy concerns for some users.
FAQs and Answers
Is ShareKaro completely free to use?
Yes, ShareKaro is entirely free to download and use, with no hidden costs or subscription fees.
Can I share files larger than 1GB using ShareKaro?
Yes, ShareKaro supports transferring files of any size, including those larger than 1GB.
Is ShareKaro compatible with older Android devices?
Yes, ShareKaro is compatible with Android devices running Android 4.4 (KitKat) or higher.
Common Issues That May Arise While Using ShareKaro and Their Solutions
Issue: Unable to connect devices for file transfer
Solution: Ensure both devices have ShareKaro installed, enable WiFi Direct on both devices and bring them within close proximity.
Issue: File transfer speed is slow
Solution: Check for any network congestion or interference, and ensure both devices have sufficient battery power.
Issue: Encountered inappropriate content
Solution: Use ShareKaro's parental control feature to filter and restrict content.
Conclusion
ShareKaro stands out as a powerful and convenient file-sharing app for Android devices. Its impressive speed, offline functionality, and cross-platform compatibility make it an ideal choice for users seeking a hassle-free and efficient way to transfer files of any size and format. While the app occasionally displays ads and may contain inappropriate content, its overall value proposition remains strong. For those seeking a seamless and data-free file-sharing experience on their Android devices, ShareKaro is a compelling option that deserves consideration.

VirusTotal Hash Code
a3cd21cdc68ca5cb276f78192de4242c9687a70a7ea602bcdd1bbada92a278d7
Operating System
Android 4.1 and up
Date Published
15, Nov 2023
Date Modified
15, Nov 2023
Versions
Check other versions
Platforms
Also Available for
Alternatives
Also, check the alternatives of ShareKaro
Articles
Articles related to ShareKaro
These are the articles which is writen by us or contributed by other writers
Currently, no articles are available. But we will add some soon. Thank you for staying with us.