ShareKaro
Download for Windows
ShareKaro is a free Indian file-sharing app that allows users to transfer files between different devices and systems without the need for an internet connection. Download it now for your device and start sharing!
Latest Version: 2.4.99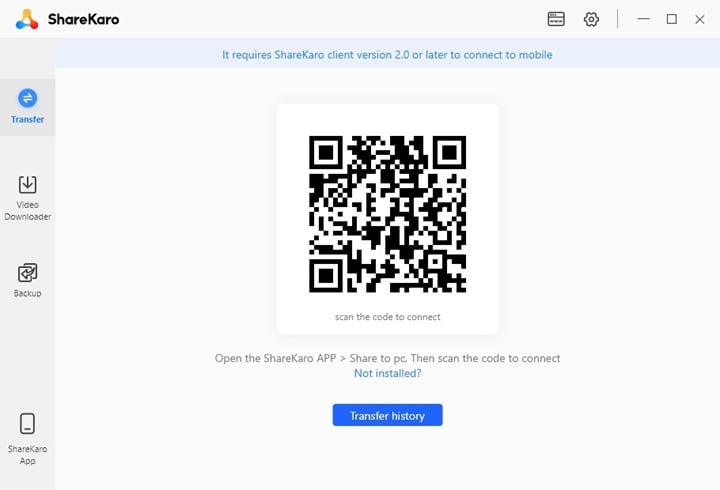 Table Of Contents
Pick which you want to save your time
Screenshots
Latest Screenshots
The more image you see about ShareKaro, the more you will understand and know it
First Slide
First Slide
First Slide
First Slide
Description
ShareKaro for Windows Description
Fast file transfers can save you a lot of time and trouble, especially in situations where you need to share files quickly and reliably. If you don't have a good file transfer app on hand, it can be tough to handle these situations. That's where Share Karo comes in. It is an all-in-one file transfer platform that offers fast, reliable, and secure file transfers for all your devices.
What is ShareKaro?
ShareKaro is a free and easy-to-use file-sharing app that allows users to transfer files between different devices and systems without using the internet. It uses Wi-Fi Direct technology to create a direct connection between the devices, which allows for faster transfer speeds. ShareKaro can be used to share all types of files, including videos, photos, music, apps, and documents.
Features
Sharekaro offers a number of unique features that make it stand out from the competition. Here are a few of the most notable:
Fast file transfer speeds
This app uses a proprietary file transfer protocol that allows for lightning-fast speeds of up to 480MBps. This means that you can transfer large files in seconds, even between devices that are not connected to the internet.
Offline file sharing
It does not require an internet connection to share files. This makes it ideal for sharing files in areas with poor or no connectivity.
Cross-platform support
It supports a wide range of devices, including laptops, desktops, Android smartphones and tablets, and iOS devices. This means that you can share files with anyone, regardless of what device they are using.
Video downloader
It also includes a built-in video downloader that allows you to download videos from a variety of websites, including YouTube, Instagram, and Facebook.
File backup
It can also be used to back up your important files. Simply connect your mobile device to your computer and press the backup button. The app will automatically create a backup of your files and store them on your computer.

How to use ShareKaro for PC
To use ShareKaro for PC, simply download and install the app by clicking on the download button from this page. Once the app is installed, open it and follow these steps:
Select the files you want to share.
Click the "Send" button.
Select the device you want to send the files to.
The app will start transferring the files to the selected device.
Tips for using ShareKaro for PC
Here are a few tips for using ShareKaro for PC:
Make sure that both devices are connected to the same Wi-Fi network.
If you are transferring large files, it is recommended to connect your computer to a power source.
You can pause and resume file transfers at any time.
To cancel a file transfer, simply click the "Cancel" button
Conclusion
Sharekaro is a file transfer app developed by an Indian team. It has made significant progress over the years, stabilizing its transfer protocol and strengthening its security features.

Do we recommend Sharekaro? Absolutely! It is a reliable and powerful app that can be used for everyday file transfers from one device to another. While there may be occasional hiccups, they are rare and do not detract from the overall user experience.

ShareKaro System Requirements
Operating System: Windows 7 or Higher
File Name
sharekaro-setup.exe
VirusTotal Hash Code
6dcac6704945ea438ea25e5e3b2c6858d7abdfb8e28aa388594585d88c3b3243
Operating System
Windows 7, Windows 8, Windows 8.1, Windows 10, Windows 11
Date Published
09, Nov 2023
Date Modified
09, Nov 2023
Versions
Check other versions
Platforms
Also Available for
Alternatives
Also, check the alternatives of ShareKaro
Articles
Articles related to ShareKaro
These are the articles which is writen by us or contributed by other writers
Currently, no articles are available. But we will add some soon. Thank you for staying with us.